Trip Around the Sun Tour – Kenny Chesney, featuring Thomas Rhett and Old Dominion
Event Navigation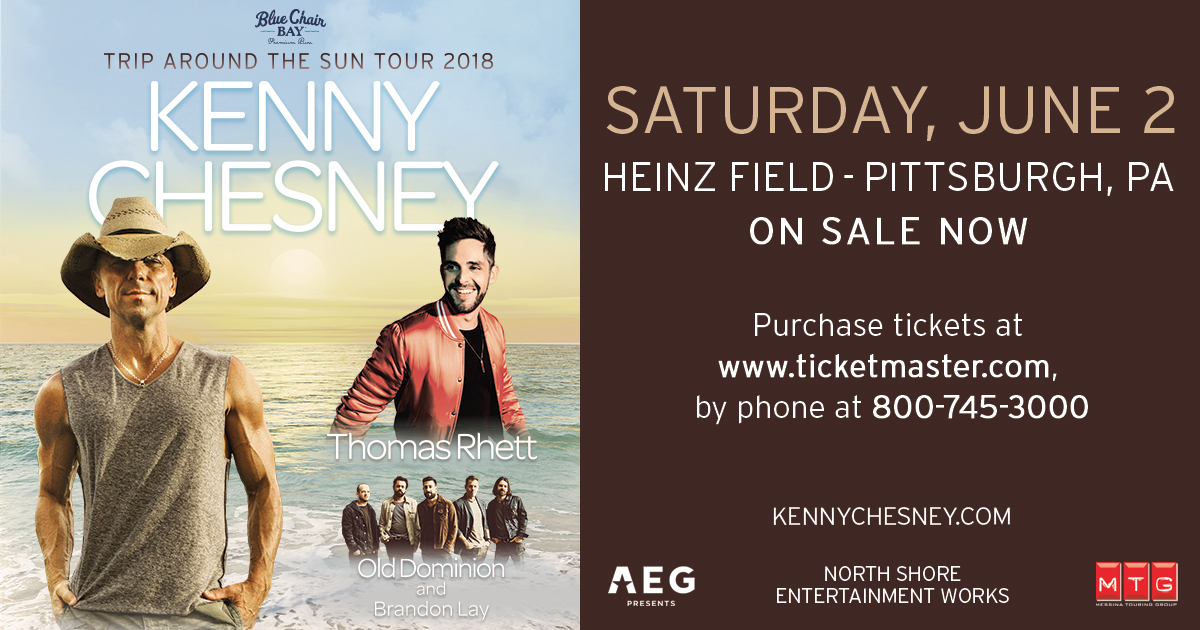 Country music star set to make Heinz Field return in June 2018
Heinz Field has announced that Kenny Chesney will make his Pittsburgh return on June 2, 2018, with the "Trip Around the Sun Tour." This will mark his 10th appearance at Heinz Field – each appearance coming in front of a capacity crowd. Chesney will be joined by special guests Thomas Rhett, Old Dominion and Brandon Lay.
"No Shoes Nation" fan club members will have the first opportunity to purchase tickets for the June 2018 show at Heinz Field on October 18. A special Steelers season ticket holder presale will take place at noon on October 18. Steelers Nation Unite members and season ticket wait-list members will be able to take part in presales on October 23.
TICKETS
Tickets are on sale now!

To purchase a suite for the Trip Around the Sun Tour, please email PremiumSeating@steelers.nfl.com
PARKING
Parking for the concert can be purchased through Parking Panda. Cash parking will be available on the North Shore, Downtown and Station Square for varying prices.
TAILGATING
This year we are teaming up with the pros at Tailgate Guys to provide fans a safe, fun tailgating experience on the Great Lawn. Fans can experience tailgating at its best with great food and comfort in a friendly environment. Visit TailgateGuys.com/home/heinzfield for more info.
---
KENNY CHESNEY
The leader of "No Shoes Nation," Chesney is one of Country Music's most celebrated artists. With 16 studio albums, two CMA Entertainer of the Year awards and 15 tours under his belt, Chesney is also one of the most seasoned artists in music history. His tours reach new heights of entertainment for fans and have earned him the Billboard Touring Award's Top Package Tour six times.
THOMAS RHETT
Rhett was recently named Male Vocalist of the Year at the 2017 Academy of Country Music (ACM) awards, also seeing his megahit "Die a Happy Man" win Song of the Year. The Georgia-born Rhett is set to debut his third studio album, Life Changes, later this year.
OLD DOMINION
Old Dominion broke on the scene in 2015 and won Group of the Year at the 2016 ACM Awards. The five-member band recently released their second studio album, Happy Endings, in August. They will open the show at Heinz Field.
BRANDON LAY
Brandon Lay will release his debut album, titled "Speakers, Bleachers and Preachers," in the coming months. The Jackson, Tenn. native signed with Universal Music Group and has built a strong following while touring the United States.
More information on the "Trip Around the Sun Tour" will be announced at a later date.
Related Events