MEET OUR CHEF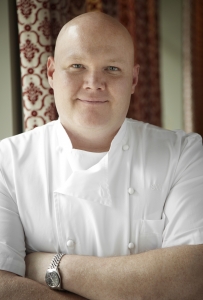 Scott Walton, Executive Chef
Scott Walton brings a culinary background of globally infused American cuisine, with local seasonality as a guiding light, to his post as executive chef for Aramark at Heinz Field.
Reared in Chicago, Walton got into cooking at a young age. "Being the youngest sibling of four, I spent a lot of time with my mother in the kitchen," he recalls. "I remember making cheesecakes for the parents of my friends on our baseball all-star team in between traveling for tournaments." From cheesecakes to the big leagues, Walton's career path started in Illinois, taking him from an executive sous chef role at Magnum's Prime Steakhouse in Lombard to the Olympia Fields Country Club as chef de cuisine. During his time at the Country Club, Walton created cuisine for the US Open in 2003. His first executive chef foray came at Stoney Point Grill in Mokena in 2005, followed by tenures in Chicago kitchens such as Harry Caray's Restaurant Group, the Sheraton Chicago Hotel Towers, Markethouse Chicago and most recently at Howells & Hood. While at Markethouse Chef Walton became a pioneer in the Farm to Table concept receiving accolades in over 250 publications. Markethouse also received 3 Star ratings from the Chicago Sun Times and the Chicago Tribune review while under Chef Walton's leadership.
Among his proudest career moments are his victory at the Bon Appetite Chicago Gourmet, Hamburger Hop 2013 and his showcase on the cover of National Culinary Review in June 2012 while at Markethouse. Additionally, Walton stands as a leader in urban gardening as he oversaw the largest rooftop garden spanning 6500 square-feet at Markethouse in 2009, which included 16 planter beds.
Outside of work, Walton is a member of the American Culinary Federation and Club Chefs of America. Walton resides in the South Side with his
wife, and their daughter Winnie Rose.
History of ARAMARK
ARAMARK started in the trunk of a Dodge in 1936 and since has become a multi- national company; on the Fortune 500 list for the last 10 years. Not only does ARAMARK provide the food and beverage for sport venues, but also for hospitals, universities, correctional institutes, convention centers and many more facilities throughout the United States. Simply put, "wherever you look, ARAMARK is servicing". ARAMARK continues to grow by servicing 18 countries on 4 different continents, including being the primary food distributor for 13 Olympic Games, including Mexico City, Sydney and mostly recently the games in Athens, Greece.
ARAMARK employs only the finest people in order to better serve each and every customer. The high service standards of ARAMARK are acknowledged in the various honors received. We are also exclusive food caterers for Fenway Park and Paul Brown Stadium, as well as Quicken Loans and Oriole Park at Camden Yards, to name a few.
Food & Beverage Service
Only food and beverage provided by ARAMARK may be served on the Stadium grounds. Event menus, room arrangements and other details pertaining to your function should be submitted to the catering department at least 30 days prior to your event. Our catering department will be happy to plan a menu especially for you or assist you in selecting the proper menu items and arrangements to ensure a successful function.
Food or beverage of any kind may not be brought into or taken out of the premises by a client without the advance written permission of ARAMARK and may be subject to additional fees.
Standard Equipment Provided
ARAMARK's traditional banquet set is tables for 8 guests. These 60″ round tables are set with black floor length cloths and napkins. We are happy to provide additional linen options and tables for 10 guests at an additional charge.
ARAMARK provides 2 (two) 8 foot tables for use at registration, coat check or display. Additional tables may be rented at $25.00 each and would include a black cloth & skirt. Please give advance notice of these requests as they come from an outside source.
Deposit & Payment Information
An advance deposit constituting 50% of the estimated cost is required at least 90 days in advance. Balance of the total contract price is due (72) working hours prior to the function, based on the guaranteed count. Such payment shall be by cash, credit card, or check. Charges for guests over the guarantee or other charges are payable at the conclusion of the event.
Service Charges and Taxes
A standard service charge of 20% shall be assessed on all service provided. Food, beverages and service charge are subject to 7% Pennsylvania tax and the 10% Allegheny Drink Tax.
Guaranteed Guest Count
Guaranteed attendance must be provided three working days in advance of the day the event is scheduled for parties of estimated attendance within 50 to 499 guests. For parties above 500 the guarantee must be provided five working days in advance. If no guarantee is given, host is responsible for the contracted number. ARAMARK will prepare to serve 5% (up to 30) above the guaranteed number for seated meals.
Additional Requirements
Flowers, special linens and equipment can be arranged through your catering representative at an additional charge.
Cancellation
Cancellation of an event must be sent in writing to ARAMARK. Any cancellation received less than 60 days of the first scheduled event will result in a fee to ARAMARK equal to 25% of the estimated food and beverage charges. Any cancellation received less than 30 days in advance will result in a fee of 50% of the estimated food and beverage charges. Any cancellation received after the Final Guarantee has been provided will result in a fee equal to 100% of the charges on the affected event order(s).
Prices
All quoted prices are subject to change. Prices will only be guaranteed one year in advance and only when a signed catering contract is executed and 50% deposit received.
Deliveries
All deliveries must be arranged for in advance with your PSSI facility contact. ARAMARK will not accept freight or unscheduled deliveries.
Property Damage
Client is responsible for damages to or on ARAMARK or PSSI property or injury to ARAMARK personnel caused by Client's or its client's agent's action or negligence.
Other Requirements
Requirements such as parking, audio-visual equipment, staging, dance floor and player appearances may be coordinated through your PSSI facility contact.