Divisional Round Playoffs: Steelers vs. Jaguars
January 14 @ 1:00 pm

-

4:00 pm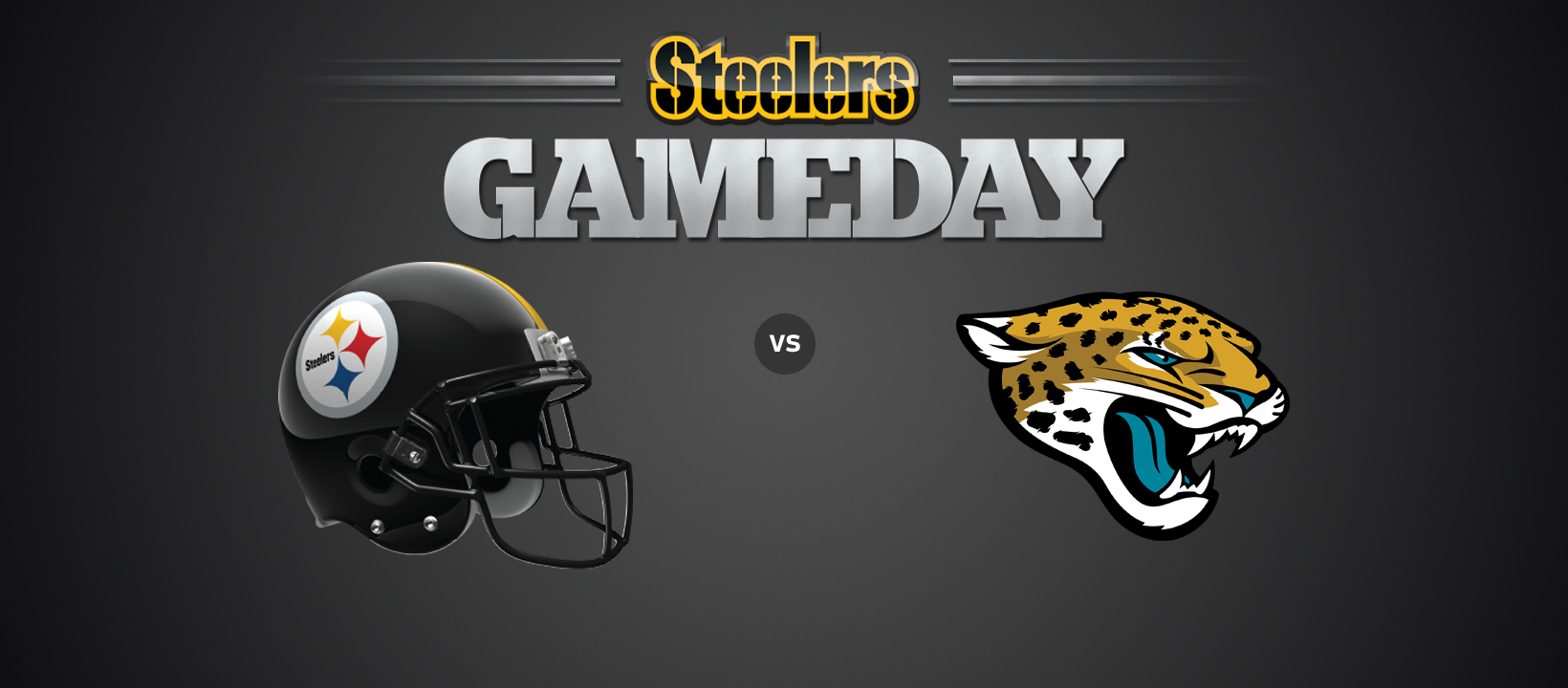 2017 NFL Postseason
Divisional Round
The Pittsburgh Steelers' 2017 NFL Postseason Divisional Round matchup against the Jacksonville Jaguars will be played on Sunday, January 14 at 1:05 p.m. The game can be seen nationally on CBS with local radio play-by-play on 102.5 WDVE. Tickets for this game can be purchased via TicketMaster and TicketMaster NFL Ticket Exchange.

PARKING, BOX OFFICE, GATES, KICK-OFF
Parking lots open at 8 a.m.
Will Call, located at the Steelers Ticket Office by Gate B, opens at 10 a.m.
Stadium gates open at 11 a.m.
Kick-off at 1:05 p.m.
---
TRAFFIC UPDATES
The Gateway Clipper Fleet will NOT be in operation for this game. Fans who usually take the Clipper must plan for a new route to the game.
Due to heavy flooding, the "Bathtub" section of I 376 East (Inbound) is closed. Follow the posted detours to get to the stadium. Here is a detailed list of which detour to take based on where you park:
CASH PARKING
Fans intending to choose cash parking at Sunday's game are recommended to park in the "Golden Triangle" (Downtown) for easiest access to and from the game. Follow the below detours for the best route:
Westbound I-376 to Boulevard of the Allies
From westbound I-376, traffic will take the Boulevard of the Allies (Exit 72B) off-ramp
Follow the Boulevard of the Allies to northbound I-579 toward the Veterans Bridge
Take the exit to Convention Center/7th Avenue into downtown Pittsburgh
Optional: Follow signs to Heinz Field
End route
Westbound I-376 to Route 380 via Wilkinsburg
From westbound I-376, traffic will take the Wilkinsburg (Exit 78B) off-ramp
Follow northbound Route 8 to westbound Route 380
From Route 380 take the exit to 6th Avenue into downtown Pittsburgh
Optional: Follow signs to Heinz Field
End route
PRE-SOLD PARKING
Fans who have prepaid for their parking are recommended to use the below detours to the North Shore.
Westbound I-376 to Grant Street
From westbound I-376, traffic will take the Grant Street (Exit 71A) off-ramp
Turn left onto Fort Pitt Boulevard
Follow Fort Pitt Boulevard to northbound I-279
End route
Westbound I-376 to Route 28 via Wilkinsburg
From westbound I-376, traffic will take the Wilkinsburg (Exit 78B) off-ramp
Follow northbound Route 8 to Route 28
Take Route 28 southbound to the North Shore exit
End route
From points east of Monroeville
Take US 22 to the Pennsylvania Turnpike
Take the Turnpike westbound to the Allegheny Valley exit
Follow westbound Freeport Road to Route 910
From Route 910 take Route 28 southbound to the North Shore exit
End route
CLEAR BAG POLICY
Heinz Field encourages fans to not bring in any type of bags. However, the following style and size bag, package or container at stadium plaza areas, stadium gates or when approaching queue lines of fans awaiting entry into the stadium are permitted:
Bags that are clear plastic, vinyl or PVC and do not exceed 12" x 6" x 12." (Official NFL team logo clear plastic tote bags are available through steelers.com, at all Steelers Sideline Stores, and at  nflshop.com).
Visit HeinzField.com/bagpolicy for more information and details.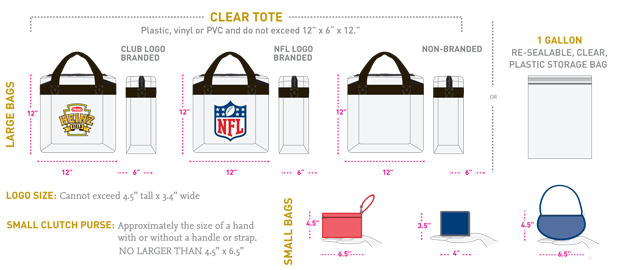 ON–FIELD ACTIVITIES
AMERICA THE BEAUTIFUL
Artist Loren Allred, originally from the North Side of Pittsburgh, will perform America The Beautiful prior to kickoff. Allred was a finalist on NBC's "The Voice" season 3 and is the lead vocals for character Jenny Lind in the movie "The Greatest Showman."
TERRIBLE TOWEL TWIRL
Before each Steelers game, a select group will perform the terrible towel twirl on the field near the Steelers' player tunnel. This week's Terrible Towel Twirl will be led by Steelers legend, Super Bowl Champion and 2018 Pro Football Hall of Fame Finalist Alan Faneca.
FLAG FOOTBALL RECOGNITION
The Pittsburgh Steelers Youth Flag Football team competing in a competition at the 2018 NFL Pro Bowl in Orlando will join players on the sideline for the National Anthem and participate in the Terrible Towel Twirl.
NATIONAL ANTHEM
The National Anthem will be performed by Rock and Roll Hall of Famer John Oates. He will be joined by the United States Army Color Guard. Oates recently released a new album titled "Arkansas" and is an avid sports fan, having appeared on numerous sports news programs.
STRIKE FIGHTER SQUADRON 83 "THE RAMPAGERS" FLYOVER
Fans are encouraged to be in their seats to witness a flyover prior to kick off by the Strike Fighter Squadron 83 "The Rampagers" of the United States Navy out of Naval Air Station Oceana Virginia Beach.
HALFTIME SHOW
At halftime, fans will be able to watch a halftime show performance from multi-platinum duo Dan + Shay. Dan and Shay met in Nashville, but Dan Smyer's Wexford roots have kept him a life-long Steeler fan. Dan graduated from North Allegheny High School.
ATI SALUTE TO HEROES
The ATI Salute to Heroes features a local military hometown hero at each game during the first break of the 3rd quarter. This week, the team will honor Special Forces Captain Mark Nutsch, accompanied by actor Chris Hemsworth. Nutsch is an Afghanistan War hero whose story has been made into the movie "12 Strong: The Declassified True Story of the Horse Soldiers," produced by Jerry Bruckheimer. Hemsworth portrays Nutsch in the upcoming movie.
PRE-GAME ACTIVITIES
STEELERS PLAYOFF PEP RALLY
The Pittsburgh Steelers will host a "Steelers Playoff Pep Rally" on Saturday, January 13 at Stage AE. Admission to the event is free for all Steelers fans. Doors open for the Pep Rally at 6 p.m. Steelers alumni will appear throughout the evening. The first 1,000 fans through the door at the event will receive a special Fathead giveaway featuring six current Steelers players.
STAGE AE TAILGATE ZONE
Fans are encouraged to stop by Stage AE, the Official Tailgate Zone of the Steelers. Admission is free and the doors open at 9 a.m. Thunderstruck, the ultimate AC/DC cover band, will be performing from 10:30 a.m. to 12 p.m.
Fans will be able to participate in Steelers prize giveaways, including autographed items and a "jersey upgrade" where one fan can exchange their used jersey for a brand-new Steelers jersey. Food and drink specials will be available during the tailgate, including a $5 all-you-can-eat Nacho special and a microbrew tailgate selection.
The Steeline Drumline will lead a Steelers Nation Unite Fan Parade from Stage AE to the stadium approximately 60 minutes before kickoff.
ART ROONEY AVENUE
Before each game, fans are invited to participate in free activities along Art Rooney Ave. outside of the stadium three hours prior to kickoff. Fans can purchase food and drinks while enjoying experiences inside the Gameday Live Tents, a meet-and-greet with Steely McBeam, take photos with giant Steelers gloves, enter to win prizes from various Steelers partners, watch earlier NFL games and more.
IN-STADIUM ACTIVITIES
FREE Wi-Fi
The Steelers offer free Wi-Fi for all fans throughout Heinz Field. More information can be found at heinzfield.com/wifi.
FATHEAD GIVEAWAY
The first 20,000 fans to enter the stadium on Sunday will receive a Fathead vinyl decal.
50-50 RAFFLE
For all home games in 2017, the Steelers have a 50/50 raffle with proceeds benefiting local charities. One fan will take home half of the prize, and for this game, the other half will benefit the United Way. The winning number is announced after the end of the third quarter. For more information regarding the 50/50 raffle, please visit http://www.steelers.com/community/50-50-raffle.html.
FEDEX GREAT HALL
The FedEx Great Hall along the East side of the stadium will offer fans an in-stadium experience unlike any other. With a pre-game show featuring live music from DJ Steve Maffei Jr. starting when gates open at 11 a.m., fans will be able to listen to great music while visiting the Steelers Walk of Fame and Hall of Honor and enjoying food and drinks from nearby concessions stands.
FORD FAN ZONE
The Ford Fan Zone is located under the scoreboard in the south end zone and features activities for fans at each home Steelers game, including the new POW-MIA Memorial Seat and corresponding plaque. This week, Steelers alumni Willie Parker and Santonio Holmes will meet fans for photo opportunities from 11:30 a.m. to 12:30 p.m.
STEELERS NATION UNITE
Steelers Nation Unite is the official home of Steelers Nation. Free to join, members have opportunities to connect with the team and score exclusive rewards from wherever they follow the Steelers. Fans can sign up at www.steelersnationunite.com, on the Steelers mobile app or at Heinz Field. Members are also encouraged to check-in at the stadium on game day using the Steelers mobile app or by visiting www.steelersnationunite.com for a chance to score on-field experiences.
STEELERS MOBILE APP
The Steelers Mobile App will offer fans inside Heinz Field exclusive content only seen when inside the stadium – including the new interactive stadium map. When users turn on "Location-Based Alerts" within the app settings, they will have access to on-demand game replays, news catered to their experience in the stadium, access to guest services and more.
SCHEDULE
8 a.m.: Parking lots open
9 a.m.: Stage AE Tailgate open
10 a.m.: Art Rooney Ave. experiences begin
10 a.m.: Will Call ticket window (Gate B) open
11 a.m.: All gates open
11 a.m.: FedEx Great Hall live music begins
11:30 a.m.: Santonio Holmes meet-and-greet in Ford Fan Zone
12 p.m.: Steelers Nation Unite Parade from Stage AE to the stadium
12:45 p.m.: On-field performance by Loren Allred
1 p.m.: National Anthem performed by John Oates
1:05 p.m.: Steelers vs. Jaguars
ACCESS, SECURITY AND STADIUM POLICIES
The Steelers and Heinz Field management are advising fans attending the game about some access and security matters, including the following stadium policies:
Walk-through metal detectors will be in place at every Heinz Field entry point this year.
Signs and apparel with foul language or inappropriate messages are prohibited at Heinz Field. Fans with signage or apparel bearing foul language will not be allowed into Heinz Field or will be subject to expulsion from the stadium.
Media must present identification and check-in prior to being admitted to the stadium.
Media planning on exiting and re-entering the stadium at any point on game day must have their credential "scanned-out" before exiting in order for it to be valid for re-entry.
Heinz Field management recommends that all fans lock their vehicles and keep personal belongings out of sight before entering the stadium. Fans are advised to not leave valuables in their vehicles during games.
---
COUNTERFEIT TICKETS
The Steelers and Heinz Field management are warning fans to watch out for counterfeit tickets when attempting to make a purchase from scalpers. Fans looking to purchase tickets are encouraged to visit  NFL Ticket Exchange to buy-and-sell verified tickets from other fans or visit Steelers Ticket Exchange to buy-and-sell verified tickets from other Steelers fans. Fans are advised not to purchase paper tickets printed through the TicketExchange service from scalpers because of the possibility of counterfeiting.
Related Events