Pittsburgh Steelers vs. Cincinnati Bengals
October 22, 2017 @ 4:25 pm

-

8:30 pm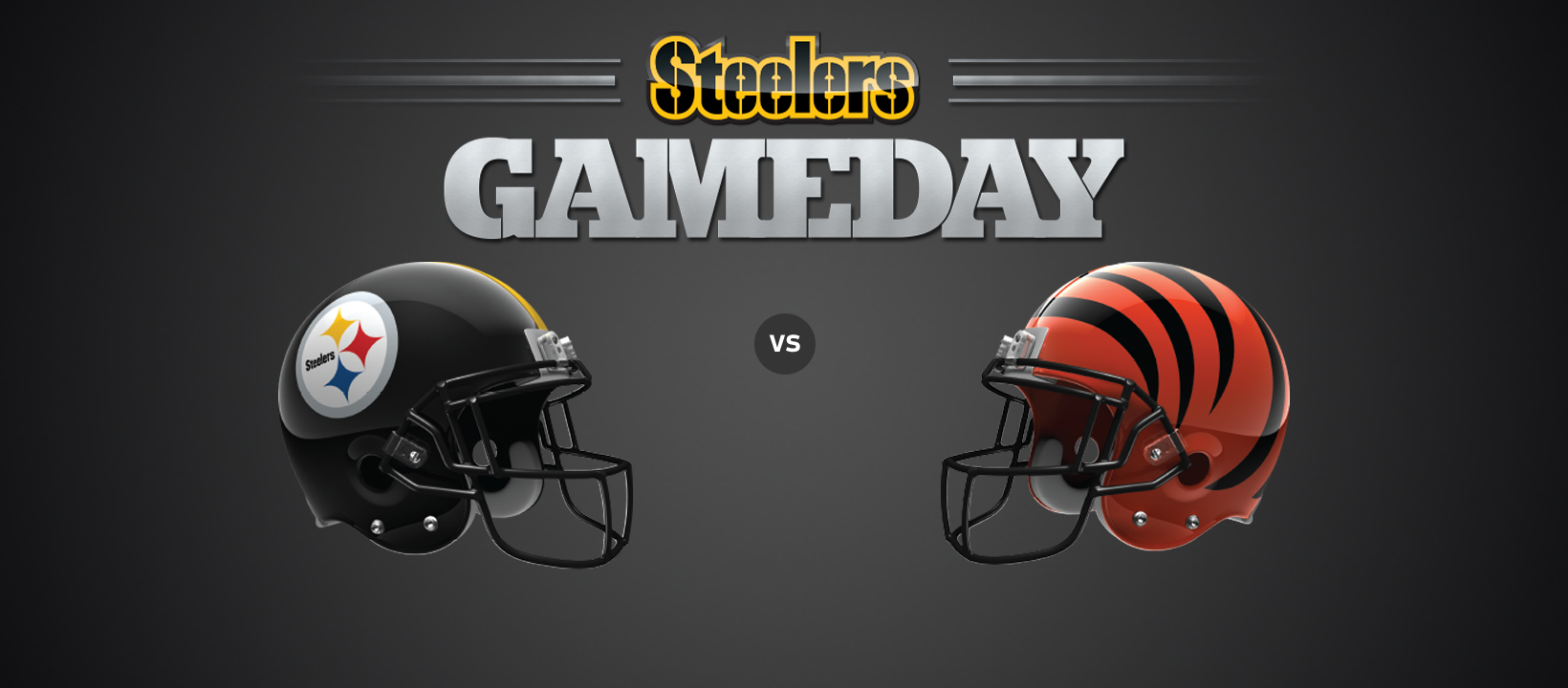 2017 NFL Regular Season
Pittsburgh Steelers vs. Cincinnati Bengals
Week 7
The Pittsburgh Steelers' (4-2) 2017 NFL Season home game against the Cincinnati Bengals (2-3) will take place on Sunday, October 22. The game will kick off at 4:25 p.m. ET and be broadcast locally on CBS with radio play-by-play on 102.5 WDVE. Tickets for Steelers v. Bengals can be purchased via TicketMaster and TicketMaster NFL Ticket Exchange.
PARKING, BOX OFFICE, GATES, KICK-OFF
Parking lots open at 11:30 a.m.
Will Call, located at the Steelers Ticket Office by Gate B, opens at 1:30 p.m.
Stadium gates open at 2:30 p.m.
Kick-off at 4:25 p.m.
---
GAME ACTIVITIES
SCHEDULE
12 p.m.: Stage AE Tailgate open
1:30 p.m.: Art Rooney Ave. experiences open
2:30 p.m.: FedEx Great Hall live music begins
3 p.m.: Bubby Brister meet-and-greet in Ford Fan Zone
3:30 p.m.: Steelers Nation Unite Parade from Stage AE to the stadium
4 p.m.: On-field performance by Upper Saint Clair High School Marching Band
1 p.m.: National Anthem performed by The Skyliners
PRE-GAME ACTIVITIES
STAGE AE TAILGATE ZONE
Fans are encouraged to stop by Stage AE, the Official Tailgate Zone of the Steelers. Admission is free and the doors open at 12 p.m. Bon Journey will be performing from 2 p.m. to 3:30 p.m.
Fans will be able to participate in Steelers prize giveaways, including autographed items and a "jersey upgrade" where one fan can exchange their used jersey for a brand-new Steelers jersey. Food and drink specials will be available during the tailgate, including a $5 all-you-can-eat Nacho special and a microbrew tailgate selection.
Fans will be led from Stage AE to the stadium approximately 60 minutes before kickoff by the Steelers Nation Unite Fan Parade and the Steeline Drumline.
ART ROONEY AVENUE
Be a part of the Steelers Experience and capture memorable photos with our giant Steelers gloves, compare yourself with actual size player cutouts, and our "How Do You Stack Up?" display. Get your official Steelers gear directly from the Steelers Merchandise Trailer, and visit the many Steelers partners for a chance to win prizes and exciting giveaways.
This week's partners include: Bud Light, Your Neighborhood Ford Store, Sirius XM, GEICO, iHeart Media (WDVE), Hyundai, The Pittsburgh Post-Gazette, VISA and Stage AE.
Participate in the pregame Built Ford Tough Toughest Tailgate Challenge for a chance to win a Steelers Pro Shop gift card! Just look for the Ford F-150 truck tower. If you make the throw into the elevated truck – you win!
Visit the Visa Virtual Fitting Room on Art Rooney Avenue from 1pm to 4:30pm. Step into the photo booth, and get a picture decked out in virtual Steelers team gear! Plus, meet former Steelers DE Brett Keisel from 1:30 to 2:30pm as part of the Visa Virtual Fitting Room experience!
IN-STADIUM ACTIVITIES
FREE WIFI
The Steelers offer free Wi-Fi for all fans throughout Heinz Field. More information will be provided once fans enter the stadium.
50/50 RAFFLE
For all home games in 2017, the Steelers have a 50/50 raffle with proceeds benefiting local charities. One fan will take home half the prize, and for this game, the other half will benefit the UPMC SportsMedicine Concussion Program. The winning number is announced after the end of the third quarter. For more information regarding the 50/50 raffle, please CLICK HERE.
1st-IN-GOAL
The Pittsburgh Steelers will reward fans who arrive early with free prizes and giveaways as part of the team's 1st-IN-GOAL promotion, presented by Steelers Nation Unite. The first 25,000 fans to enter Heinz Field for Sunday's game vs. the Cincinnati Bengals will receive a scratch-off card revealing a prize. This week's partners and prizes include: FREE Pepsi Cola fountain drink, FREE Smith's Stadium Hot Dog, FREE Fox's Pizza Den Stadium Pizza, FREE pair of STAGE AE concert tickets, FREE pair of pre-game field passes, FREE McDonald's Fries, FREE Buford's Kitchen Restaurant appetizer, FREE GetGo Coffee, and a FREE Isaly's Steel Town or Goal Line Grinder Sandwich.
FEDEX GREAT HALL
The FedEx Great Hall along the East side of the stadium will offer fans an in-stadium experience unlike any other. With a pre-game show featuring live music from Calvin Stemley and The Stematics starting when gates open at 2:30 p.m., fans will be able to listen to great music while visiting the Steelers Walk of Fame and enjoying food and drinks from nearby concessions stands.
FORD FAN ZONE
The Ford Fan Zone is located under the scoreboard in the south end zone and features activities for fans at each home Steelers game. This week, Steelers alumni Bubby Brister will meet fans for photo opportunities from 3 p.m. to 4p.m.
STEELERS MOBILE APP
The Steelers Mobile App will offer fans inside Heinz Field exclusive content only seen when inside the stadium. When users turn on "Location-Based Alerts" within the app settings, they will have access to on-demand game replays, news catered to their experience in the stadium, access to guest services and more.
ON-FIELD ACTIVITIES
UPPER SAINT CLAIR HIGH SCHOOL MARCHING BAND
At approximately 4 p.m., the Upper Saint Clair High School Marching Band will perform on-field. The band is a performing ensemble made up of 144 musicians, color guard, Pantherettes and Majorettes.
TERRIBLE TOWEL TWIRL
Before each Steelers game, a select group will perform the terrible towel twirl on the field near the Steelers' player tunnel. This week's Terrible Towel Twirl will be led by Steelers Legend Santonio Holmes.
NATIONAL ANTHEM
The National Anthem will be performed by The Shyliners, in a tribute to late McKeesport native Jimmy Beaumont. The United States Army Color Guard will join The Skyliners on the field.
PITTSBURGH FLAG FOOTBALL LEAGUE
At halftime, four teams from Pittsburgh's Flag Football League, totaling 32 players, will compete on-field in side-by-side games.
ATI SALUTE TO HEROES
The ATI Salute to Heroes features a local military hometown hero at each game during the first break of the 3rd quarter. This week, the team will honor Sgt. Bill Shaffer of the marine Corps. Shaffer is a 2002 graduate of Aliquippa High School. Sgt Shaffer joined the Marine Corps where he became an Infantry assault man with 4TH Marine Expeditionary Brigades' Anti-Terrorism Battalion Combined Anti Amour Team 3 (CAAT3). In 2005 Sgt Shaffer deployed to Fallujah Iraq in support of Operation Iraqi Freedom to fight against the growing insurgency in the region and Al-Qaeda in Iraq with 2nd Marine Division.
---
ACCESS, SECURITY AND STADIUM POLICIES
The Steelers and Heinz Field management are advising fans attending the game about some access and security matters, including the following stadium policies:
Walk-through metal detectors will be in place at every Heinz Field entry point this year.
Signs and apparel with foul language or inappropriate messages are prohibited at Heinz Field. Fans with signage or apparel bearing foul language will not be allowed into Heinz Field or will be subject to expulsion from the stadium.
Media must present identification and check-in prior to being admitted to the stadium.
Media planning on exiting and re-entering the stadium at any point on game day must have their credential "scanned-out" before exiting in order for it to be valid for re-entry.
Heinz Field management recommends that all fans lock their vehicles and keep personal belongings out of sight before entering the stadium. Fans are advised to not leave valuables in their vehicles during games.
COUNTERFEIT TICKETS
The Steelers and Heinz Field management are warning fans to watch out for counterfeit tickets when attempting to make a purchase from scalpers. Fans looking to purchase tickets are encouraged to visit  NFL Ticket Exchange to buy-and-sell verified tickets from other fans or visit Steelers Ticket Exchange to buy-and-sell verified tickets from other Steelers fans. Fans are advised not to purchase paper tickets printed through the TicketExchange service from scalpers because of the possibility of counterfeiting.
Related Events