Pittsburgh Steelers vs. Tennessee Titans
November 16, 2017 @ 8:25 pm

-

11:59 pm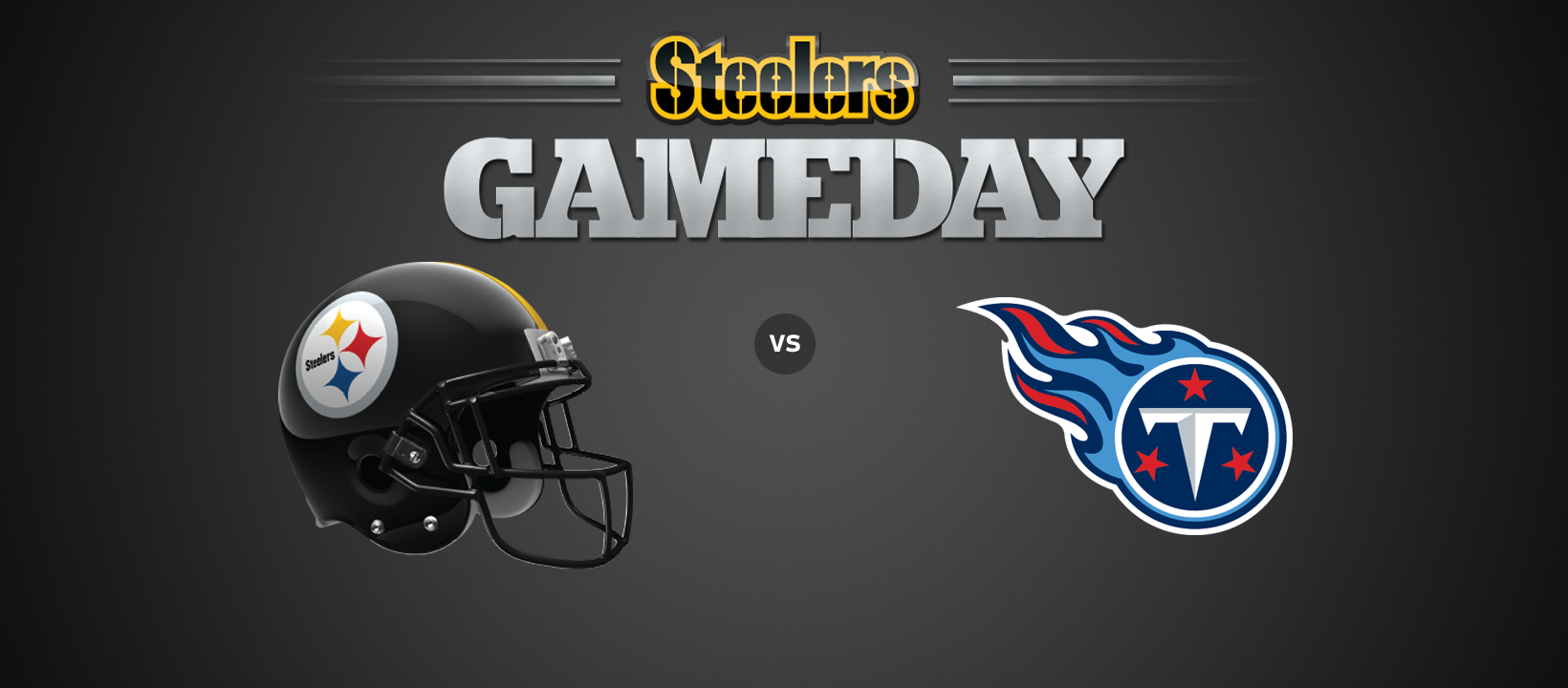 2017 NFL Regular Season
Week 11
The Pittsburgh Steelers' 2017 NFL Season home game against the Tennessee Titans will take place on Thursday night, November 16. The game will kick off at 8:25 p.m. ET and be broadcast locally on NBC with radio play-by-play on 102.5 WDVE. Tickets for Steelers v. Titans can be purchased via TicketMaster and TicketMaster NFL Ticket Exchange.

This Thursday night clash will be part of the
NFL's Salute to Service
game schedule and both teams will be wearing their NFL Color Rush uniforms.
PARKING, BOX OFFICE, GATES, KICK-OFF
Parking lots open at 3:30 p.m.
Will Call, located at the Steelers Ticket Office at Gate B, opens at 5:30 p.m.
Stadium gates open at 6:30 p.m.
Kick-off at 8:25 p.m.
---
SALUTE TO SERVICE
Thursday night's game will be part of the NFL's Salute to Service program, where all teams will honor the men and women of our armed forces. The Steelers will host members of all branches of our armed forces for Thursday's game, with on- and off-field recognition throughout the day.
POW-MIA SEAT DEDICATION
Heinz Field and the Steelers will debut a branded seat dedicated to all Prisoners of War and Soldiers Missing in Action with an accompanying plaque. The seat will be accessible for photos on the plaza in the Ford Fan Zone. Fans can view the ceremony on the stadium video boards at approximately 8:08 p.m.
Steelers legend and Vietnam Veteran Rocky Bleier and World War II Veteran and POW LT. Alvin Murtha will unveil the commemorative chair. They will be joined by State Senator Jay Costa, State Senator Wayne Fontana, Senator Randy Vulakovich, Vice President of Stadium Operations and Management Jimmie Sacco and Team President Art Rooney II.
SALUTE TO HEROES TRIBUTE
The team will honor local veteran and active military members from each branch of the military. The honorees will be introduced in a pre-game, on-field ceremony and will stand with the players for the National Anthem.
TERRIBLE TOWEL TWIRL
Before each Steelers game, a select group will perform the terrible towel twirl on the field near the Steelers' player tunnel. This week's Terrible Towel Twirl will be led by Steelers Alumni and Military Veterans John Banaszak, Andy Russell and Rocky Bleier.
COIN TOSS
The Steelers will be joined by honorary co-captain General Michael Hayden for the coin toss. General Hayden is a Pittsburgh native and former Steelers ball boy who became a 4-star General and Director of the CIA and Homeland Security.
NATIONAL ANTHEM
The National Anthem will be performed by The United State Herald Trumpets of the Army Band, Pershing's Own. Founded in 1959, the U.S. Army Herald Trumpets were formed to add splendor to the official military ceremonies. A joint services honor guard representing all branches will join the Herald Trumpets for the playing of the National Anthem.
EMPLOYEE RECOGNITION
Over 100 gameday employees at Heinz Field are veterans of the armed forces, the team and Heinz Field will honor them with a special pregame tribute. The employees will also be wearing green Steelers Salute to Service hats while in the stadium, all fans are encouraged to say hello and thank them for their service.
AMERICAN RED CROSS HOLIDAY MAIL FOR HEROES
The Red Cross will host a holiday card signing station for deployed military members, veterans and their families in the FedEx Great Hall prior to kickoff. All fans are encouraged to visit the display and sign a card. The display will be open from the time the gates open until the end of halftime. 5,000 cards will be on-hand for fans to sign.
IN-GAME MILITARY MESSAGES
Video messages from active military will be shown on the video boards throughout the course of the game
HALFTIME CHALLENGE
Representatives from each of the five branches of the military (Army, Marines, Navy, Air Force and Coast Guard) will compete in an on-field competition to win a donation for a military charity. All branches will receive a donation.
ATI SALUTE TO HEROES
The ATI Salute to Heroes features a local military hometown hero at each game during the first break of the 3rd quarter. This week, the team will honor Chief Ralph Anderson. Thursday will mark the last day Chief Anderson is in uniform as he retires after a proud 26-year career in the United States Navy Special Warfare division.
PRE-GAME ACTIVITIES
STAGE AE TAILGATE ZONE
Fans are encouraged to stop by Stage AE, the Official Tailgate Zone of the Steelers. Admission is free and the doors open at 4 p.m. House of Soul will be performing from 6 p.m. to 7:30 p.m.
Fans will be able to participate in Steelers prize giveaways, including autographed items and a "jersey upgrade" where one fan can exchange their used jersey for a brand-new Steelers jersey. Food and drink specials will be available during the tailgate, including a $5 all-you-can-eat Nacho special and a microbrew tailgate selection.
Fans will be led from Stage AE to the stadium approximately 60 minutes before kickoff by the Steelers Nation Unite Fan Parade and the Steeline Drumline.
ART ROONEY AVENUE
Before each game, fans are invited to participate in free activities along Art Rooney Ave. outside of the stadium three hours prior to kickoff. Fans can purchase food and drinks while enjoying experiences inside the Gameday Live Tents, a meet-and-greet with Steely McBeam, take photos with giant Steelers gloves, enter to win prizes from various Steelers partners and more.
This week, fans are encouraged to participate in the Presents for Veterans program taking place at Ford Truck on Art Rooney Avenue. For more details, click here.
IN-STADIUM ACTIVITIES
NFL BAG POLICY
Heinz Field encourages fans to not bring in any type of bags. However, the following style and size bag, package or container at stadium plaza areas, stadium gates or when approaching queue lines of fans awaiting entry into the stadium are permitted:
Bags that are clear plastic, vinyl or PVC and do not exceed 12" x 6" x 12." Official NFL team logo clear plastic tote bags are available through com and at all Steelers Sideline Stores.
Visit com/bagpolicy for more information.
FREE Wi-Fi
The Steelers offer free Wi-Fi for all fans throughout Heinz Field. More information can be found at heinzfield.com/wifi.
50-50 RAFFLE
For all home games in 2017, the Steelers have a 50/50 raffle with proceeds benefiting local charities. One fan will take home half the prize, and for this game the other half will benefit a number of Military and Veterans Charities. The winning number is announced after the end of the third quarter. For more information regarding the 50/50 raffle, please visit http://www.steelers.com/community/50-50-raffle.html.
1st-IN-GOAL
The Pittsburgh Steelers will reward fans who arrive early with free prizes and giveaways as part of the team's 1st-IN-GOAL promotion, presented by Steelers Nation Unite. The first 25,000 fans to enter Heinz Field for Sunday's game vs. the Tennessee Titans will receive a scratch-off card revealing a prize. This week's partners and prizes include: FREE Pepsi Cola fountain drink, FREE Smith's Stadium Hot Dog, FREE Fox's Pizza Den Stadium Pizza, FREE pair of STAGE AE concert tickets, FREE pair of pre-game field passes, FREE McDonald's McCafe Coffee, FREE Buford's Kitchen Restaurant appetizer, FREE GetGo Coffee, and a FREE Isaly's Steel Town or Goal Line Grinder Sandwich.
FEDEX GREAT HALL
The FedEx Great Hall along the East side of the stadium will offer fans an in-stadium experience unlike any other. Starting when gates open at 6:30 p.m., fans will be able to listen to great music while visiting the Steelers Walk of Fame and enjoying food and drinks from nearby concessions stands.
FORD FAN ZONE
The Ford Fan Zone is located under the scoreboard in the south end zone and features activities for fans at each home Steelers game. This week, Steelers Veteran Alumni Levon Kirkland will meet fans for photo opportunities from 6:30 to 7:30 p.m.
STEELERS NATION UNITE
Steelers Nation Unite is the official home of Steelers Nation. Free to join, members have opportunities to connect with the team and score exclusive rewards from wherever they follow the Steelers. Fans can sign up at www.steelersnationunite.com, on the Steelers mobile app or at Heinz Field. Members are also encouraged to check-in at the stadium on game day using the Steelers mobile app or by visiting www.steelersnationunite.com for a chance to score on-field experiences.
STEELERS MOBILE APP
The Steelers Mobile App will offer fans inside Heinz Field exclusive content only seen when inside the stadium. When users turn on "Location-Based Alerts" within the app settings, they will have access to on-demand game replays, news catered to their experience in the stadium, access to guest services and more.
ON–FIELD ACTIVITIES
ZAMBELLI FIREWORKS
Locally owned Zambelli Fireworks will display a fireworks show during the pregame player introductions and the National Anthem.
ALLDERDICE DRAGONS FOOTBALL
The Allderdice High School Dragons Football Team recently won the Pittsburgh City League football championship for the first time in 50 years. Select members of the team will be on-field prior to kick off to record a segment with NBC / NFL Network that will air during the game broadcast.
All members of the team will receive tickets to the game and be recognized on the in-stadium video boards during the game.
SCHEDULE
3:30 p.m.: Parking lots open
4 p.m.: Stage AE Tailgate open
5:30 p.m.: Art Rooney Ave. experiences begin
5:30 p.m.: Will Call ticket window (Gate B) open
6:30 p.m.: All gates open
6:30 p.m.: FedEx Great Hall live music begins
6:30 p.m.: Levon Kirkland meet-and-greet in Ford Fan Zone
7:30 p.m.: Steelers Nation Unite Parade from Stage AE to the stadium
8:22 p.m.: National Anthem performed by The United States Herald Trumpets of the Army Band, Pershing's own
8:25 p.m.: Steelers vs. Titans
CLEAR BAG POLICY
Heinz Field encourages fans to not bring in any type of bags. However, the following style and size bag, package or container at stadium plaza areas, stadium gates or when approaching queue lines of fans awaiting entry into the stadium are permitted:
Bags that are clear plastic, vinyl or PVC and do not exceed 12" x 6" x 12." (Official NFL team logo clear plastic tote bags are available through steelers.com, at all Steelers Sideline Stores and at  nflshop.com).
Visit HeinzField.com/bagpolicy for more information and details.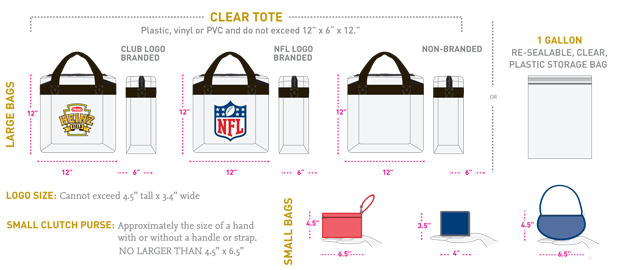 ---
ACCESS, SECURITY AND STADIUM POLICIES
The Steelers and Heinz Field management are advising fans attending the game about some access and security matters, including the following stadium policies:
Walk-through metal detectors will be in place at every Heinz Field entry point this year.
Signs and apparel with foul language or inappropriate messages are prohibited at Heinz Field. Fans with signage or apparel bearing foul language will not be allowed into Heinz Field or will be subject to expulsion from the stadium.
Media must present identification and check-in prior to being admitted to the stadium.
Media planning on exiting and re-entering the stadium at any point on game day must have their credential "scanned-out" before exiting in order for it to be valid for re-entry.
Heinz Field management recommends that all fans lock their vehicles and keep personal belongings out of sight before entering the stadium. Fans are advised to not leave valuables in their vehicles during games.
---
COUNTERFEIT TICKETS
The Steelers and Heinz Field management are warning fans to watch out for counterfeit tickets when attempting to make a purchase from scalpers. Fans looking to purchase tickets are encouraged to visit  NFL Ticket Exchange to buy-and-sell verified tickets from other fans or visit Steelers Ticket Exchange to buy-and-sell verified tickets from other Steelers fans. Fans are advised not to purchase paper tickets printed through the TicketExchange service from scalpers because of the possibility of counterfeiting.
Related Events