Pittsburgh Steelers vs. Detroit Lions – 2021 Preseason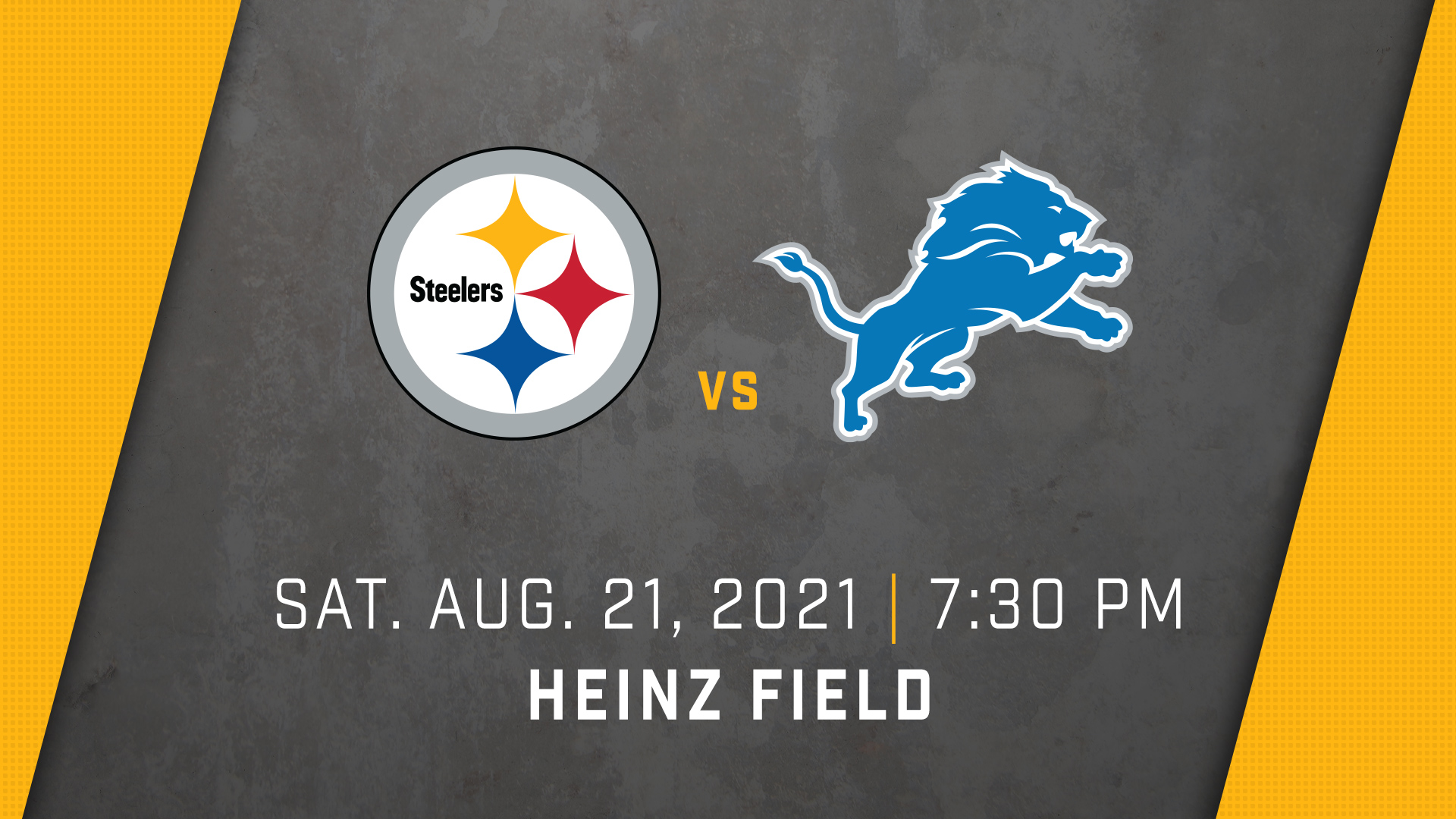 The Pittsburgh Steelers take on the Detroit Lions in 2021 NFL Preseason football at Heinz Field. The game will be televised on KDKA.
Heinz Field Mask Policy for August 21, 2021 Preseason Game Against the Detroit Lions
The Pittsburgh Steelers and Heinz Field Management are requiring fans to bring their masks for the upcoming preseason game against the Detroit Lions on Saturday, August 21, at 7:30 p.m.
Regardless of vaccination status, all guests, staff and vendors at Heinz Field will be required to wear a mask while visiting any of the indoor areas of the stadium. This includes indoor club levels, Steelers Pro Shops, restrooms, elevators, and other enclosed spaces. Fans are to bring their own masks with them prior to entering the stadium.
Masks will not be required in the concourse areas, including the FedEx Great Hall, or in the upper and lower seating bowls of the stadium as well as outside club seating and suites with the windows open. All fans are strongly encouraged to wear masks, regardless of vaccination status, while not actively eating or drinking.
Fans will not be required to show proof of vaccination to enter Heinz Field, however in accordance with CDC guidelines, unvaccinated fans should wear a mask at all times.
Heinz Field Management will continue to monitor CDC and public health officials' guidelines and adjust our policies accordingly based on any changes to the policies and recommendations.
Buy Tickets
Game Day Entertainment
Steelers Legend Chris Hoke Q&A:
Hear from Steelers Legend Chris Hoke, on the FedEx Great Hall stage 30 minutes after gates open to the public
On-field performance:
Pregame show featuring America's Best Frisbee Dogs
Terrible Towel Twirl:
As part of kickoff of the United Way campaign, the Terrible Towel Twirl will be led by Adam Barron, United Way Director of Workplace Campaigns
National Anthem:
National recording artist, Curtis Lewis Jr., a two-time winner of the nationally acclaimed talent show "It's Showtime at the Apollo" in New York City
Halftime:
Enjoy a halftime field goal kicking competition, with donations benefiting the United Way
Presentation of the PNC Joe Greene Great Performance Award
New at Heinz Field in 2021
Fully Mobile:
Fans coming to Heinz Field will no longer receive paper tickets to enter the game. All tickets for Steelers games will be mobile and must be downloaded to your smartphone and saved to your Apple or Google Wallet before arriving at Heinz Field. To get started, download the Steelers Official Mobile App. If you already have the Steelers Official Mobile App, be sure to download the latest version.
>> LEARN MORE ABOUT MOBILE TICKETS >>
Mobile Ordering:
For the first time ever, fans will now be able to use Mobile Ordering to purchase food and beverages while watching the Steelers play at Heinz Field. Mobile Ordering can be accessed from the Steelers Mobile App or by scanning a QR code within the stadium.
Going Cashless at Heinz Field:
Please note that Heinz Field is now a cashless stadium and will accept credit and debit cards, as well as Apple and Google Pay.
Steelers Pro Shop at Heinz Field:
The Steelers Pro Shop has opened its new location at Heinz Field. With more than 10,000 square feet of retail shopping space, the store offers exclusive merchandise and an expansive apparel assortment for all Steelers fans. Fans can access the store from Art Rooney Avenue and once inside Heinz Field through the FedEx Great Hall.
Steelers Pick & Win presented by Unibet:
Test your Steelers knowledge weekly with Steelers Pick & Win presented by Unibet, exclusively in the Steelers Mobile App. Starting during the regular season, you will be able to climb the leaderboard to win weekly prizes. If you're found at the top at the end of the season, you can win a VIP trip to the 2022 Pro Bowl.
Find a Steelers Hangout:
Planning to visit an opposing city this season? Find fellow Steelers fans in the location to which you'll be traveling with our new interactive Steelers Hangout map. Find restaurants, bars or even other Fan Clubs to go watch games this season.
Ford Tailgate Zone:
Steelers fans are encouraged to visit the Ford Tailgate Zone outside of Peoples Gate A East before entering Heinz Field! Enter for your chance to win a Steelers branded F150 and enjoy Steelers Experience elements!
Steelers To Offer Vaccination Clinic Prior to Saturday's Preseason Game vs. Detroit Lions
The Pittsburgh Steelers, Heinz Field Management and Giant Eagle Pharmacy announced they will offer a free COVID-19 vaccination clinic to game attendees prior to Saturday night's preseason game versus the Detroit Lions. The Steelers and Giant Eagle have once again partnered to offer vaccines to ticket holders prior to kickoff at two separate locations in Heinz Field. The following are more details about the vaccination clinic:
Time: 5:30-7:30 p.m.
Locations: Main Concourse West and Ford Fan Zone Plaza East
Required: Photo ID and medical insurance card
Vaccines: Offering Pfizer and Moderna vaccines
Unvaccinated ticket holders: Can receive their first vaccine dose and will schedule their second dose with Giant Eagle at the time of their vaccination.
The Steelers and Giant Eagle partnered earlier this year for a vaccination clinic in the PNC Champions Club at Heinz Field that was largely successful. Over 55,000 vaccines were administered during the clinic that ran from early March until late May.
Related Events