General Information & Facts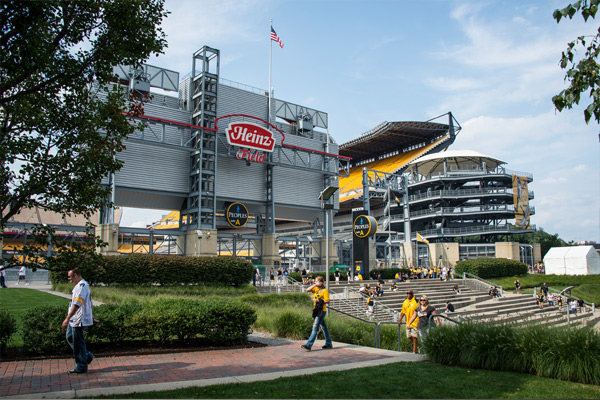 Owner: Sports and Exhibition Authority of Pittsburgh and Allegheny County
Developer: Pittsburgh Steelers
Tenants: Pittsburgh Steelers and University of Pittsburgh
Architect: HOK Sports
Construction Manager: Hunt Construction Group/Mascaro Construction (A Joint Venture)
Ground Breaking: June 18, 1999
Square Footage: 1.49 million square feet
Seating Capacity: 68,400 seats (19-21 inch wide, all with cup holders)
– Club Seating: 7,300 seats (20-21 inch wide)
– Suites: 1,544 seats (129 suites totaling over 38,000 square feet)
Club Lounges: 4 Club Lounges – PNC Champions Club, East and West Club (approximately 45,000 square feet); North Club (20,000 square feet)
Restrooms: 24 women's, 24 men's, and 8 family. Fixtures include 487 lavatories, 835 water closets, and 204 urinals.
Concessions: 47 concession stands
Merchandise: 7 novelty stores
Locker Rooms: Steelers locker room is 6,000 square feet, Panthers locker room is 4,600 square feet, and both visiting locker rooms are 2,600 square feet.
South EndZone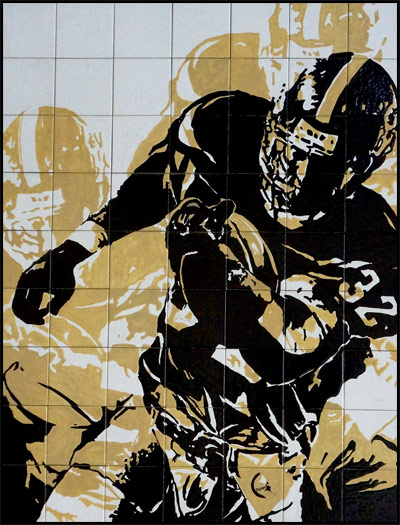 Video Board: The Heinz Field video board represents Daktronics' latest generation of 4.4 trillion color HD-16 LED displays, and measures 27′ high and 96′ wide. The new technology nearly quadruples the resolution of the former Sony video display. The video board incorporates Daktronics' newest video technology with high density full-color Pure Pixel® resolution, incredibly wide viewing angles, and resolution enhancement with sub-pixel control. As with all Daktronics' LED video displays, the big screen has the capability to show a single, wide screen image, and can also be split into 24 individual images to show lineups, game statistics, out of town game information and much more. The active area of the display approaches 2,800 square feet.
Television Sets: There are 800 televisions linked to the main scoreboard that automatically display special notifications about the game in progress.
Playing Surface: The turf is a blend of four varieties of Kentucky Bluegrass, covering just over two acres. The soil is a twelve inch, sand-based rootzone, meeting USGA specifications for particle size. Under the rootzone approximately 40 miles of ¾ inch piping heat the soil. Below the heating system there is a four inch layer of pea gravel that contains drain pipes that empty into a 22 inch collector pipe that surrounds the perimeter of the field.
Sight Lines: 60 feet from sideline to first row and 25 feet from end zone to first row
Escalators: 5
Elevators: 7 Passenger and 2 Freight
Pedestrian Ramps: 4
FedEx Great Hall: Located on the ground level of the East side of Heinz Field, the FedEx Great Hall is home to Pittsburgh Steelers and University of Pittsburgh memorabilia, Hall of Fame artifacts, Pub 33, Quaker Steak & Lube, Primanti Brothers and Papa Duke's Gyros.
High School Murals: Throughout Heinz Field, there are 60 murals from area high schools that have won a WPIAL or City League Football Championship.
Construction Details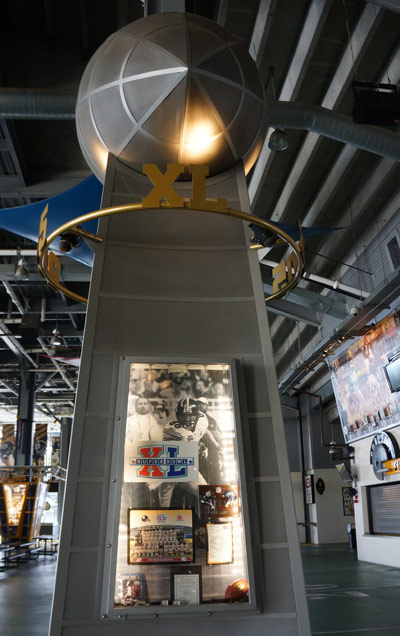 Concrete: 48,000 cubic yards.

Steel: 12,000 tons

Augercast Piles: 10,442 lineal feet

Paint: 30,000 gallons

Glass: 50,000 square feet

Doors: 1,100

Miles of Railings: 7

Pipes Under the Field: 1.85 miles

Building Square Footage: 1.49 million sq. ft. (approx.)
Heinz Ketchup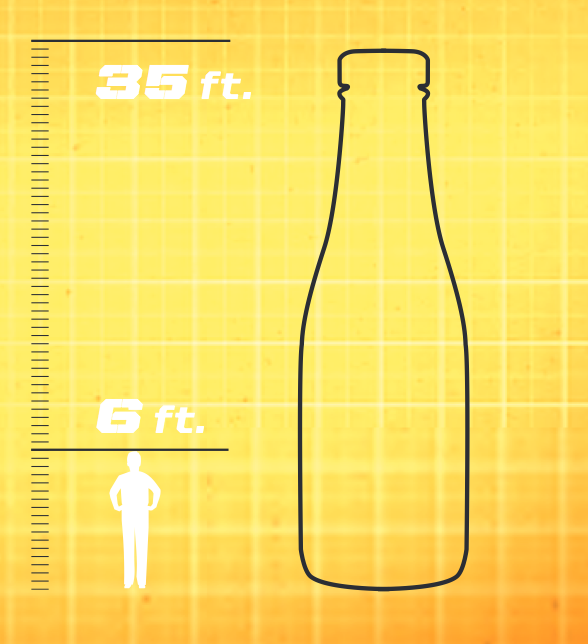 Bottles Facts: The bottles are exact replicas – down to the embossed "57" on the bottle's neck – of the Heinz Ketchup 14-ounce glass bottle. Each bottle includes 8,000 pounds of fiberglass, 375 feet of neon tubing, and 20,500 light-emitting diodes (LEDs). Each Heinz Ketchup Bottle measures 35 feet by 9 feet and each weighs 8,000 pounds, both totaling 16,000 pounds, the equivalent of 53 – 300 pound NFL linemen.
If the Heinz Ketchup bottles were filled with Heinz Ketchup, they would contain 1,664,000 fluid ounces each. That is enough to give each person seated at Heinz Field at least one 14-ounce bottle of ketchup to take home. If both bottles were emptied, the entire football field would be covered in ¾ inches of ketchup. Approximately 4,500 footballs could fit into each scoreboard ketchup bottle.